Cash-out speed
Security
Fish
Payment methods:
Stakes:
NLHE (FR, SH)
€0.01/0.02 - 5/10
NLHE (HU)
€0.1/0.25 - 5/10
PLO (FR, SH)
€0.01/0.02 - 2/4
People's Poker Network is a popular Italian poker network. Poker rooms of this network is completely focused on the players from Italy, so access to it is limited, and the entire interface of the site in Italian.
The room is the main rival of Pokerstars.it in the struggle for weak Italian players.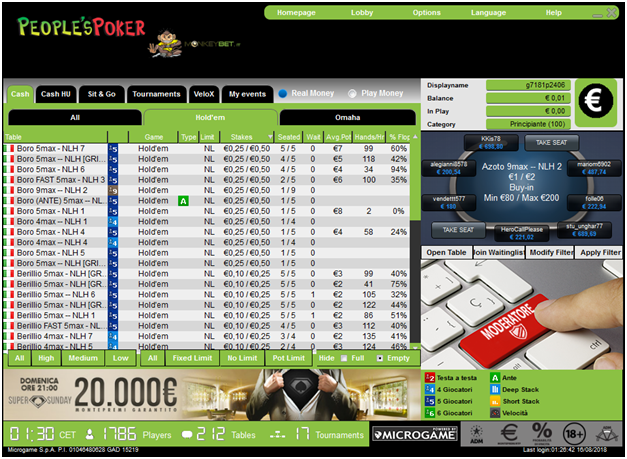 Software and statistics programs
Software of the poker room is based on the network Enet and executed in the style of Full Tilt Poker and can be considered quite modern.
PokerTracker and HoldemManager can be used through the converter.
Deposit and withdrawal options
Methods of deposit / withdrawal: Skrill, NETELLER.
Withdrawals are processed from 24 hours to 3 days.
Rakeback and Rake
For details of the VIP deal, please contact our manager Tony.
Rake.
Rake ranges from 5.05% to 6.67% depending on the stake played and discipline. More detailed in the sheet below.
Cash Rake Structure
Table
SB
BB
Buy-in min
Buy-in max
Rake
Cap
Sodio 5max - NLH
0,01 €
0,02 €
0,80 €
2,00 €
6,67%
1,00 €
Sodio 9max - NLH
0,01 €
0,02 €
0,80 €
2,00 €
6,67%
1,00 €
Sodio FAST 5max - NLH
0,01 €
0,02 €
0,80 €
2,00 €
6,67%
1,00 €
Sodio 5max - PLO
0,01 €
0,02 €
0,80 €
2,00 €
6,67%
1,00 €
Sodio 5max - PLO Hi/Lo
0,01 €
0,02 €
0,80 €
2,00 €
6,67%
1,00 €
Elio FAST 5max - NLH
0,02 €
0,05 €
1,60 €
4,00 €
6,67%
1,00 €
Elio 5max - NLH
0,02 €
0,05 €
2,00 €
5,00 €
6,67%
1,00 €
Elio 9max - NLH
0,02 €
0,05 €
2,00 €
5,00 €
6,67%
1,00 €
Elio 5max - PLO
0,02 €
0,05 €
2,00 €
5,00 €
6,67%
1,00 €
Elio 5max - PLO Hi/Lo
0,02 €
0,05 €
2,00 €
5,00 €
6,67%
1,00 €
Litio 5max - NLH
0,05 €
0,10 €
4,00 €
10,00 €
6,00%
1,75 €
Litio 9max - NLH
0,05 €
0,10 €
4,00 €
10,00 €
6,00%
1,75 €
Litio FAST 5max - NLH
0,05 €
0,10 €
4,00 €
10,00 €
6,00%
1,75 €
Litio 5max - PLO
0,05 €
0,10 €
4,00 €
10,00 €
6,00%
1,75 €
Litio 5max - PLO Hi/Lo
0,05 €
0,10 €
4,00 €
10,00 €
6,00%
1,75 €
Berillio 5max - PLO
0,10 €
0,20 €
8,00 €
20,00 €
5,75%
2,00 €
Berillio 9max - PLO
0,10 €
0,20 €
8,00 €
20,00 €
5,75%
2,00 €
Berillio 5max - PLO Hi/Lo
0,10 €
0,20 €
8,00 €
20,00 €
5,75%
2,00 €
Berillio 9max - PLO Hi/Lo
0,10 €
0,20 €
8,00 €
20,00 €
5,75%
2,00 €
Berillio (ANTE) 5max - NLH
0,10 €
0,25 €
10,00 €
25,00 €
6,00%
1,75 €
Berillio 4max - NLH
0,10 €
0,25 €
10,00 €
25,00 €
5,75%
2,00 €
Berillio 5max - NLH
0,10 €
0,25 €
10,00 €
25,00 €
5,75%
2,00 €
Berillio 5max - NLH [GRINDER]
0,10 €
0,25 €
10,00 €
25,00 €
5,90%
2,00 €
Berillio 9max - NLH
0,10 €
0,25 €
10,00 €
25,00 €
5,75%
2,00 €
Berillio FAST 5max - NLH
0,10 €
0,25 €
10,00 €
25,00 €
5,75%
2,00 €
Berillio HU - NLH
0,10 €
0,25 €
10,00 €
25,00 €
5,75%
1,50 €
Boro (ANTE) 5max - NLH
0,25 €
0,50 €
20,00 €
50,00 €
5,50%
3,50 €
Boro 4max - NLH
0,25 €
0,50 €
20,00 €
50,00 €
5,50%
3,50 €
Boro 5max - NLH
0,25 €
0,50 €
20,00 €
50,00 €
5,50%
3,50 €
Boro 5max - NLH [GRINDER]
0,25 €
0,50 €
20,00 €
50,00 €
5,65%
3,50 €
Boro 9max - NLH
0,25 €
0,50 €
20,00 €
50,00 €
5,50%
3,50 €
Boro HU - NLH
0,25 €
0,50 €
20,00 €
50,00 €
5,50%
1,50 €
Boro 5max - PLO
0,25 €
0,50 €
20,00 €
50,00 €
5,50%
3,50 €
Boro 9max - PLO
0,25 €
0,50 €
20,00 €
50,00 €
5,50%
3,50 €
Boro HU - PLO
0,25 €
0,50 €
20,00 €
50,00 €
5,50%
1,50 €
Boro 5max - PLO Hi/Lo
0,25 €
0,50 €
20,00 €
50,00 €
5,75%
3,50 €
Boro 9max - PLO Hi/Lo
0,25 €
0,50 €
20,00 €
50,00 €
5,50%
3,50 €
Boro HU - PLO Hi/Lo
0,25 €
0,50 €
20,00 €
50,00 €
5,50%
1,50 €
Carbonio 4max - NLH
0,50 €
1,00 €
40,00 €
100,00 €
5,35%
3,75 €
Carbonio 5max - NLH
0,50 €
1,00 €
40,00 €
100,00 €
5,35%
3,75 €
Carbonio 5max - NLH [GRINDER]
0,50 €
1,00 €
40,00 €
100,00 €
5,50%
3,75 €
Carbonio 9max - NLH
0,50 €
1,00 €
40,00 €
100,00 €
5,35%
3,75 €
Carbonio HU - NLH
0,50 €
1,00 €
40,00 €
100,00 €
5,35%
1,50 €
Carbonio 5max - PLO
0,50 €
1,00 €
40,00 €
100,00 €
5,35%
3,75 €
Carbonio HU - PLO
0,50 €
1,00 €
40,00 €
100,00 €
5,35%
1,50 €
Carbonio 5max - PLO Hi/Lo
0,50 €
1,00 €
40,00 €
100,00 €
5,35%
3,75 €
Carbonio HU - PLO Hi/Lo
0,50 €
1,00 €
40,00 €
100,00 €
5,35%
1,50 €
Azoto 4max - NLH
1,00 €
2,00 €
80,00 €
200,00 €
5,25%
4,00 €
Azoto 5max - NLH
1,00 €
2,00 €
80,00 €
200,00 €
5,25%
4,00 €
Azoto 5max - NLH [GRINDER]
1,00 €
2,00 €
80,00 €
200,00 €
5,40%
4,00 €
Azoto 9max - NLH
1,00 €
2,00 €
80,00 €
200,00 €
5,25%
4,00 €
Azoto HU - NLH
1,00 €
2,00 €
80,00 €
200,00 €
5,25%
1,75 €
Azoto 5max - PLO
1,00 €
2,00 €
80,00 €
200,00 €
5,25%
3,75 €
Azoto HU - PLO
1,00 €
2,00 €
80,00 €
200,00 €
5,25%
1,75 €
Azoto 5max - PLO Hi/Lo
1,00 €
2,00 €
80,00 €
200,00 €
5,25%
3,75 €
Azoto HU - PLO Hi/Lo
1,00 €
2,00 €
80,00 €
200,00 €
5,25%
1,75 €
Fluoro 4max - NLH
2,00 €
4,00 €
160,00 €
400,00 €
5,15%
6,00 €
Fluoro 5max - NLH
2,00 €
4,00 €
160,00 €
400,00 €
5,15%
6,00 €
Fluoro 5max - NLH [GRINDER]
2,00 €
4,00 €
160,00 €
400,00 €
5,20%
6,00 €
Fluoro HU - NLH
2,00 €
4,00 €
160,00 €
400,00 €
5,05%
1,75 €
Fluoro 5max - PLO
2,00 €
4,00 €
160,00 €
400,00 €
5,15%
6,00 €
Fluoro HU - PLO
2,00 €
4,00 €
160,00 €
400,00 €
5,05%
1,75 €
Fluoro 5max - PLO Hi/Lo
2,00 €
4,00 €
160,00 €
400,00 €
5,15%
6,00 €
Fluoro HU - PLO Hi/Lo
2,00 €
4,00 €
160,00 €
400,00 €
5,05%
1,75 €
Silicio 4max - NLH
3,50 €
7,00 €
280,00 €
700,00 €
5,15%
6,00 €
Silicio 5max - NLH
3,50 €
7,00 €
280,00 €
700,00 €
5,15%
6,00 €
Silicio 5max - NLH [GRINDER]
3,50 €
7,00 €
280,00 €
700,00 €
5,20%
6,00 €
Silicio HU - NLH
3,50 €
7,00 €
280,00 €
700,00 €
5,05%
1,75 €
Uranio 4max - NLH
5,00 €
10,00 €
400,00 €
1.000,00 €
5,15%
6,00 €
Uranio 5max - NLH
5,00 €
10,00 €
400,00 €
1.000,00 €
5,15%
6,00 €
Uranio HU - NLH
5,00 €
10,00 €
400,00 €
1.000,00 €
5,15%
2,00 €
Tony
All reservations, private rooms and Chinese poker applications
Features of the deal
2nd itialian network of traffic
Grab the deal