Cash-out speed
Security
Fish
Payment methods:
Stakes:
NLH (6,9-max)
$0.05/0.1 - 50/100
PLO4/5/6 (6,9-max)
$0.05/0.1 - 25/50
UPoker review
UPoker is one of the most popular play money poker applications on the market. The application is developed by the Malaysian company Calian Tech Marketing PLT. UPoker has become known to the general public since 2019. The application is based on the club system of individual rooms/clubs with its own chip rate and structure of tables and stakes. Many clubs are united in unions with a common pool of players, analogous to poker networks with different skins.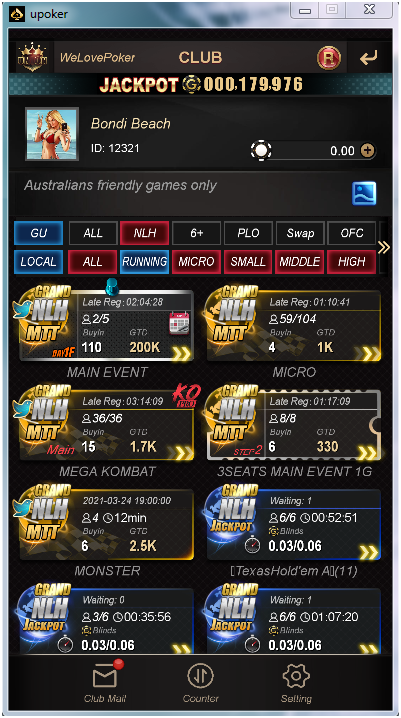 Software and statistic programs
Calian Tech Marketing PLT was engaged in the development of modern software. It is possible to install the English language in the program. The design is decorated in an unusual style.
The list of tables is located at the top of the screen. It is possible to change the deck settings and bet sizing. Until recently, the client only had basic statistics. With a paid subscription, it is possible to study information about an opponent in the room. Now a full-fledged HUD Upoker is offered.
Mobile poker is available. To do this, you need to install a special application. The program has a stylish design, easy navigation. You can download UPoker app from the official website.
Most of the poker room users are from Asia, but you can also meet players from other countries of the world. The following games are available:
NL Hold'em;
PL Omaha;
PL Omaha 5 cards;
PL Omaha 6 cards;
OFC.
Stakes may vary depending on UPoker clubs, ranging from 5-10 cents to $5-10. Various tournaments with frequent overlays are available. UPoker rakeback deal available for all players. You can find out the details of the poker offer from the affiliate from one of our managers.
UPoker supports poker trackers via converters. We recommend EliteHud Converter for UPoker. It supports Nox Emulator and LDplayer. For correct display of HUD, use only Nox Emulator with Android 7 version and LDplayer version 4.0+. If the applications do not work correctly, contact the developers or the converter support service.
When starting the application using a proxy, you should contact the RedRum Poker manager.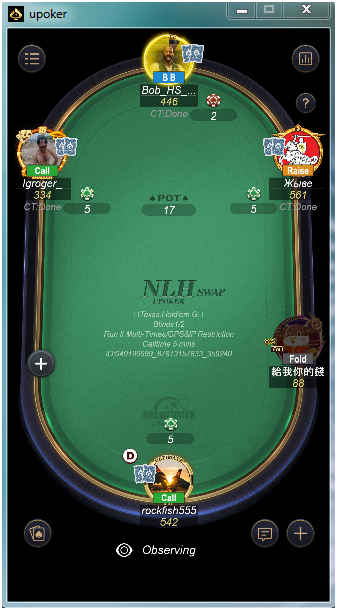 Deposit and withdrawal options
Deposits and cash-outs with UPoker are processed through agent cashier.
The main difference between UPoker and PPPoker is the more loyal rules for the club owners on the part of the application developers. Because of this the poker room is so popular. You can replenish your gaming account with Skrill or cryptocurrencies - USDT, Bitcoin. All transfers are processed through the RedRum managers.
The withdrawal of an amount that does not exceed $1,000 is processed within a few hours. Up to $5,000 - per day. Cash-out of large amounts takes up to 2 days. We provide a full guarantee of UPoker funds in many clubs.
Rakeback and rake structure
Usually the rake is 5% with a cap of 3 big blinds. But these values can vary from club to club. You can always find out the exact information from our manager.
We provide 35-45% flat rakeback to our players. You can get a VIP rakeback deal from one of our managers.
Tony
All reservations, private rooms and Chinese poker applications
Features of the deal
Targeted selection of clubs by your preferactions
Grab the deal